Tot Shabbat Transformation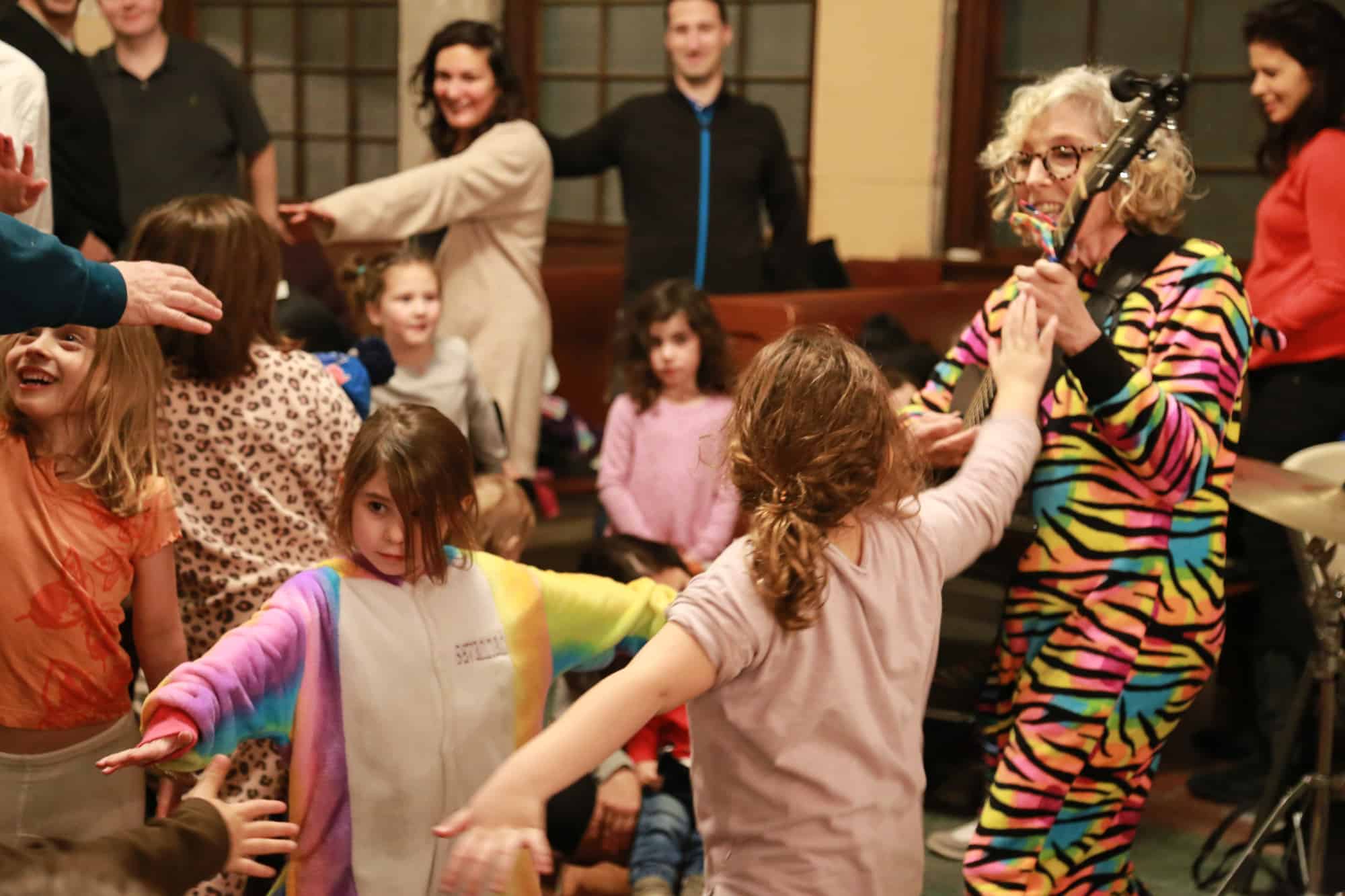 Empowering worship leaders to build a strong and vibrant Tot Shabbat experience.
Input your text here! The text element is intended for longform copy that could potentially include multiple paragraphs.
Start Your Transformation
Ellen's strength of spirit and natural ability to draw out the best in everyone is what makes her such a wonderful performer and teacher. Whether they be child, adult, or somewhere in between, Ellen is able to get them up, moving, and having the time of their lives!
What is Ellen Allard's Tot Shabbat Transformation?
Your Tot Shabbat Worship Leader is a vitally important part of a team of Jewish professionals.
His or her job is to offer spiritually satisfying experiences for young families and help guide them on their Jewish journey.
The seeds for building a gateway to a lifetime of Jewish experiences are planted when new babies are named in a formal naming ceremony. These seeds continue to be nurtured when children attend programs that are designed specifically to address all of their needs. A vibrant and regular Tot Shabbat experience can be part of their journey.
As well, it will also address the needs of their parents who have their own set of spiritual needs and desires. By building a strong Tot Shabbat, you are giving your young families the building blocks for a lifetime of Jewish participation.
Ellen Allard's Tot Shabbat Transformation will help:
Tot Shabbat Worship Leaders
Tot Shabbat worship leaders will have more confidence in their delivery of an exciting experience for young children AND their parents
Synagogue Clergy, Staff & Board Members
Synagogue clergy, staff and board members understand that a knowledge of early childhood development and developmentally appropriate practice is critical to a Tot Shabbat worship leader being able to effectively and consistently lead a meaningful Tot Shabbat
Your Jewish Professionals
Your Jewish professionals see the value of including the Tot Shabbat Worship Leader in your entire team of Jewish professionals
Tot Shabbat Transformation Program Syllabus
Have you struggled with knowing how to create a robust Tot Shabbat program that has parents and kids excited and eager to attend every single month? While repertoire might be the first thing you think of, there are some basic ground rules that you must address before you even begin looking at songs and prayers.
Making your location work for you
Becoming adept at group management
Gaining the confidence to handle disruptions from children, teachers, and parents
Setting Smart Goals and evaluating your results
Using social media, digital communication and oneg potlucks to build a thriving Tot Shabbat community
Exploring how to help your clergy, staff, board and congregation be invested in a thriving Tot Shabbat
Do you have a system for choosing appropriate songs and prayers? While you want to have a varied and musically interesting repertoire, it is vital to the success of your Tot Shabbat that you understand the criteria used to choose songs and prayers that are appropriate for the children you serve.
Introduction to developmentally appropriate practice (DAP)
Using Spotify, Apple, YouTube
Repetition, Repetition, Repetition: understanding why it's important and figuring out how to keep it fresh for you
Including songs with hand motions, ASL, listening songs, action songs, finger plays, lullabies, and circle games
Using Piggyback and back-pocket songs
Rubrics: building a matbeah for your Tot Shabbat
Your Tot Shabbat is a fluid program. As you expand your skills, you will begin looking at other ways you can improve your Tot Shabbat. Once we've covered the basics and built your curriculum, it's time to dig deeper.
Best practices for more then one person to lead Tot Shabbat
Do I need to play guitar?
Structuring the Tot Shabbat curriculum to segue into the religious school curriculum
How to use props (puppets, picture books) especially when playing guitar
Incorporating rhythm instruments
Tot Shabbat Transformation and Moving Forward
Remember those Smart Goals you created as part of your work in Module 1? It's time to take a look at them and determine next best steps. Let's build upon what you've learned in your Tot Shabbat Transformation.
Practical homework to help you integrate what you're learning
Email support directly with Ellen
Four 60 min monthly Zoom sessions for the entire cohort
Start Your Transformation
Are you ready to get started?
Investment: One participant: $3000 Two participants: $4800 Three participants: $6000
I've had the unique honor of working alongside Ellen for five years as a fellow musician in a congregational band and now welcoming her as a musician in residence. Ellen brings so much joy and passion to her singing, teaching and worship. She was truly a breath of fresh air for our congregation.