This past weekend, after an enriching, inspiring few days at the URL Biennial in Orlando, FL where I performed a concert and led a Shachrit Morning Yoga Family Service, I flew to St. Paul, MN to be an Artist-In-Residence at Mount Zion Temple. The weekend was incredible. I was treated with kid gloves – the hospitality I was shown was par none. It was a stellar weekend. The interaction I had with everyone had me floating home to Worcester. Visits like I had at Mount Zion this past weekend give me hope, that all is well, that Jewish community is vibrant and alive, that wherever you go there's always someone Jewish (thanks Rabbi Larry Milder), and that families are gathering with their children and elders to be a part of their synagogue communities.
The bright shining kids in the Shir Tzion choir (3rd – 6th grades) – we had a blast!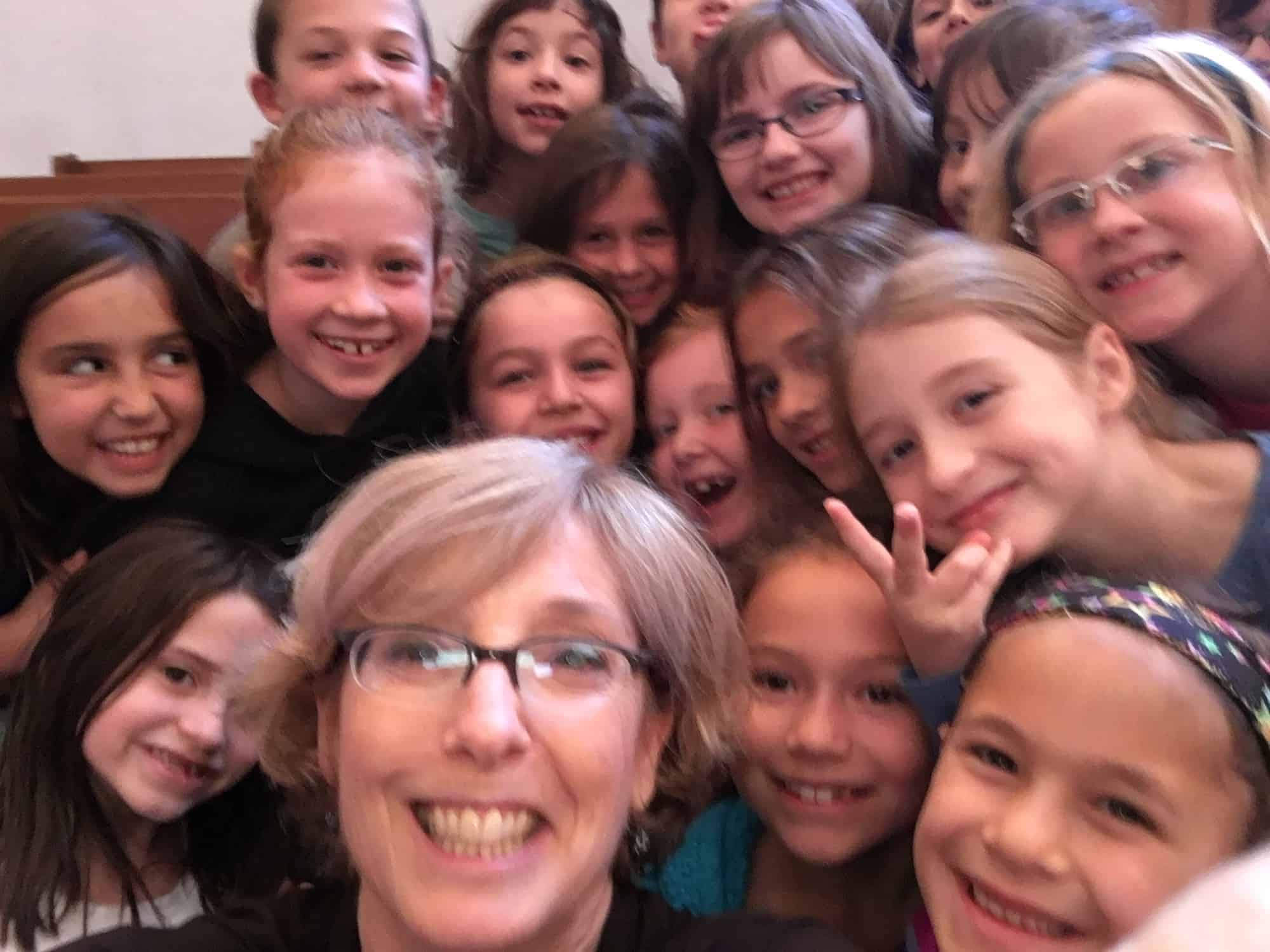 The teens in the Shir Chants choir (7th – 12th grades) – we, too, had a blast. What an amazing group of talented kids.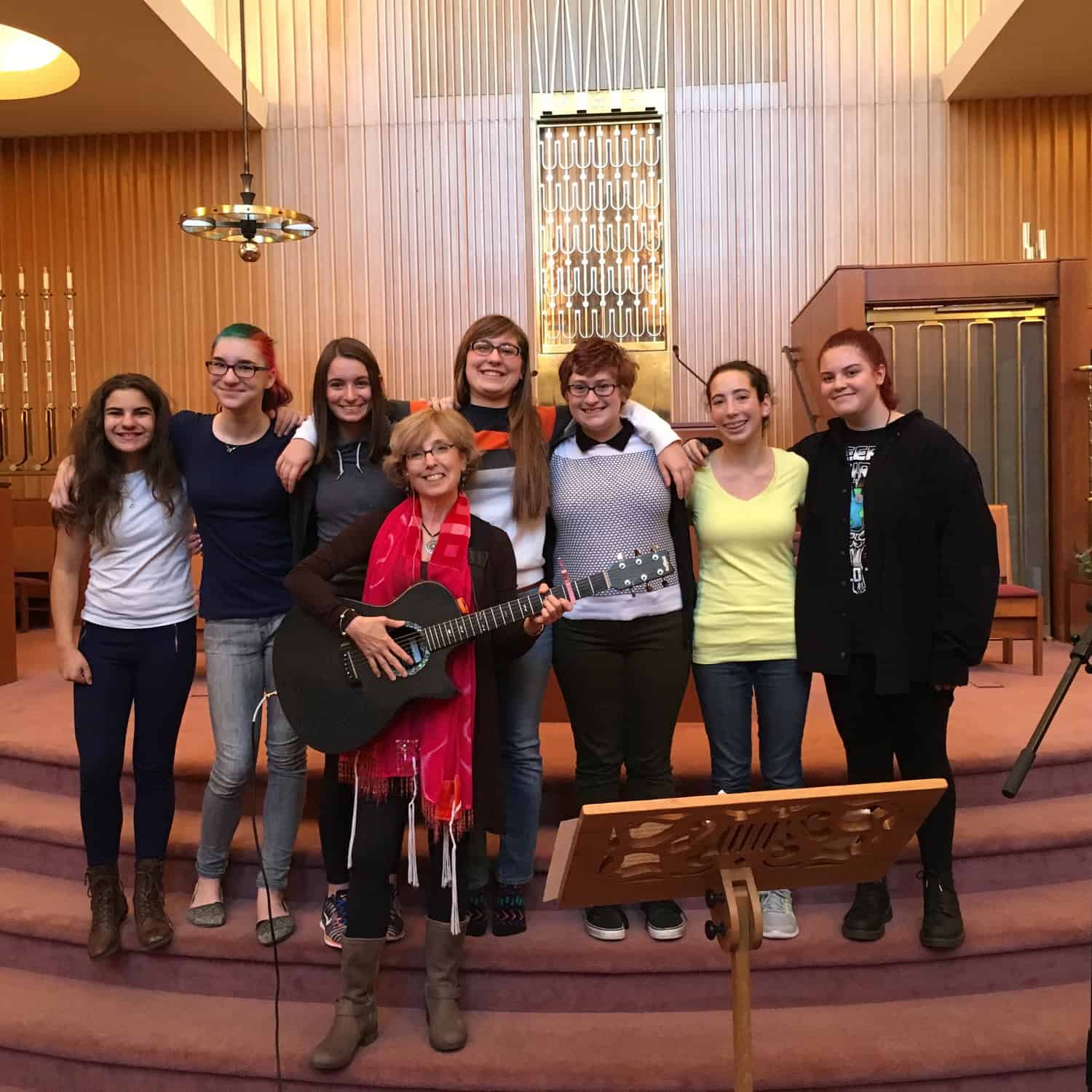 These are the Music Madrichim, young assistant teachers who I met with for an hour to answer questions about how to effectively teach and lead music with young children. The Mount Zion Religious School is in very good hands indeed.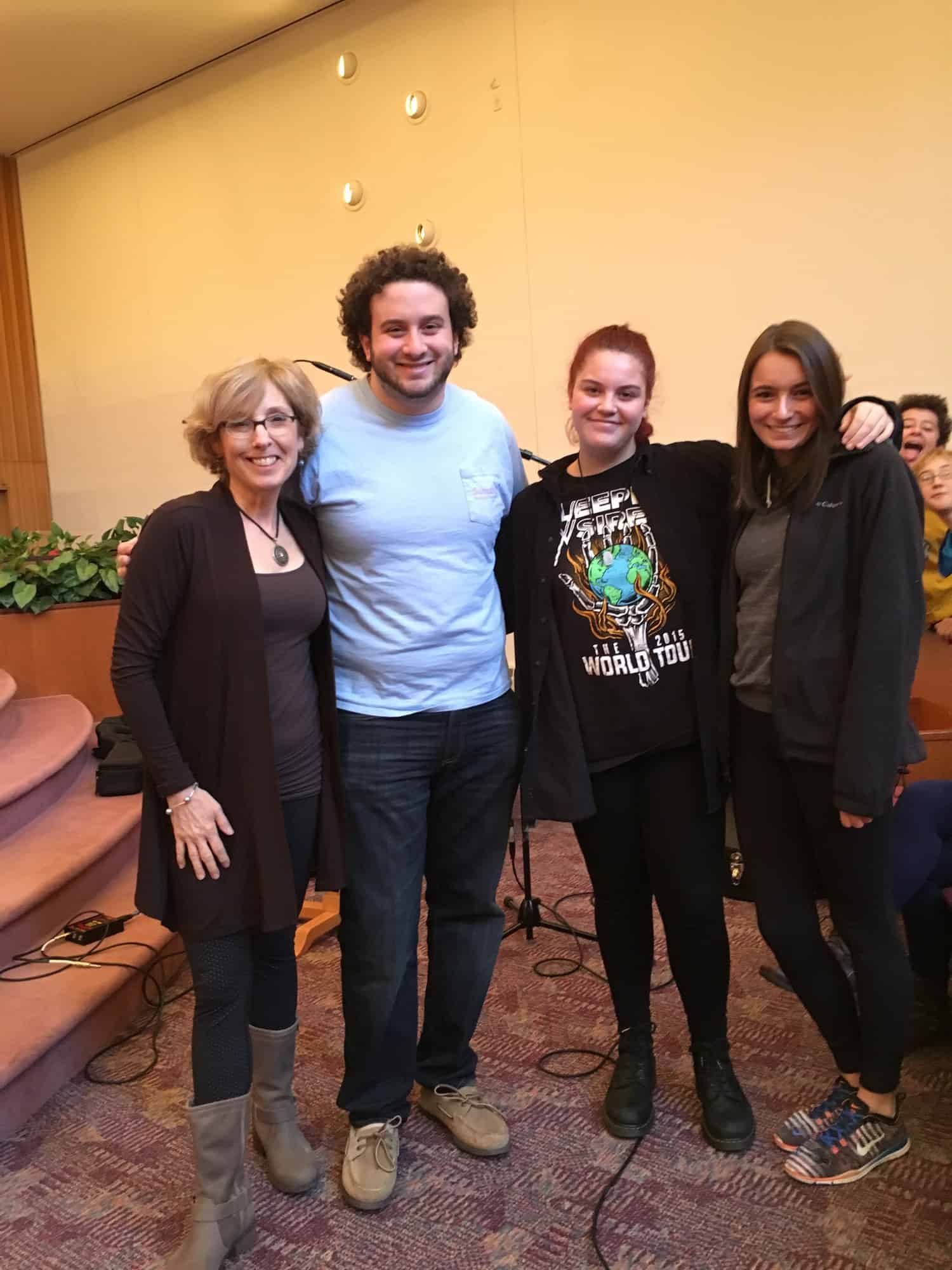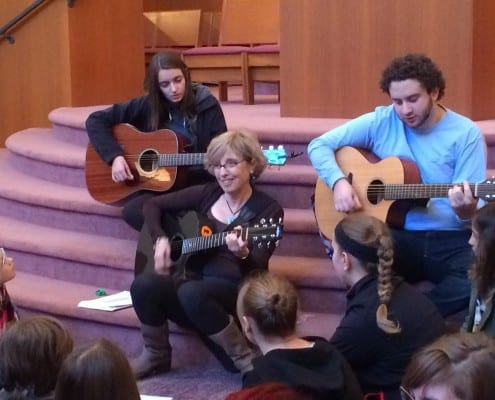 Saturday night Havdalah began with a short ceremony that Rabbi Adler and I co-led, followed by a Havdalah PJ Concert, followed by what else? Cookies (yes, there were gluten free cookies for me!) and milk! No visit would be complete without a crazy face picture!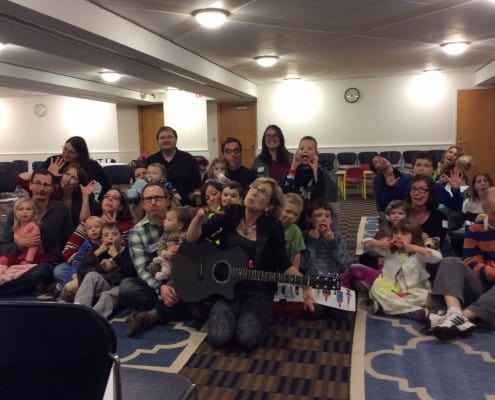 And the fabulous professional staff including a special shout-out to Cantor Jen Strauss-Klein who made this weekend come together like clockwork. She has the most beautiful voice – I was invited to sing a setting of Elohai N'tzor by Danny Maseng with Cantor Jen and another member of the congregation (who also had the voice of an angel) during my Friday night Wow Worship Service. I was in heaven!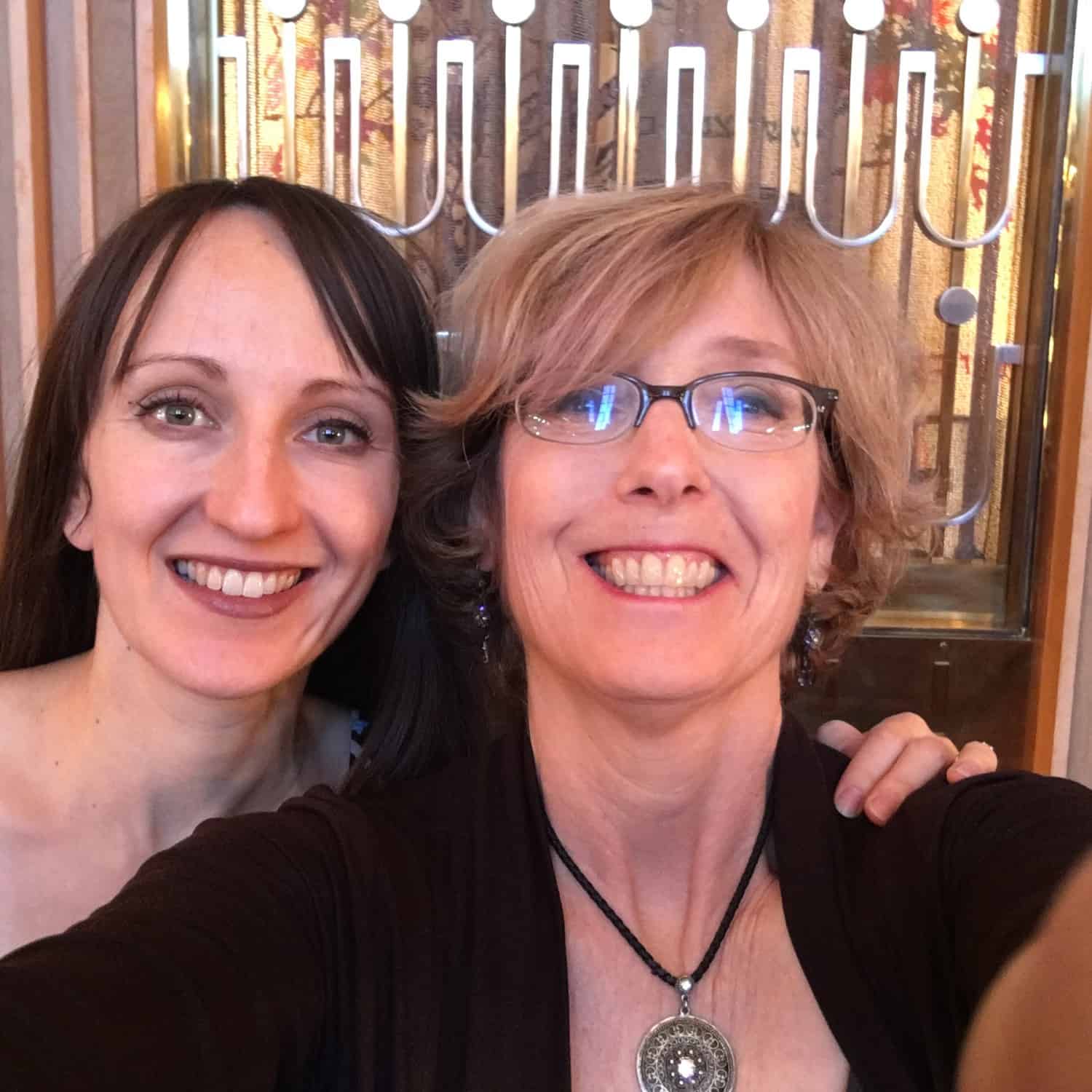 Sue Summit (second from the left) who recently moved, coincidentally, from Worcester to St. Paul. Sue and I go WAY back. She and a friend of hers are single-handedly responsible for my work in the world of Tot Shabbat. I will forever be grateful that they asked me to start a Tot Shabbat at Temple Sinai in 1995. I had no clue what Tot Shabbat even was, but you know what they say: if you build it, they will come. Sue is now the Religious School Director at Mount Zion and I'm sure will prove herself to be as worthy as she was as the Religious School Director  in Worcester at Temple Emanuel. And last but not least Reine Shiffman (on the far right with the blue & yellow plaid shirt) who was the hospitality director for my visit (she went above and beyond in making me feel welcome!).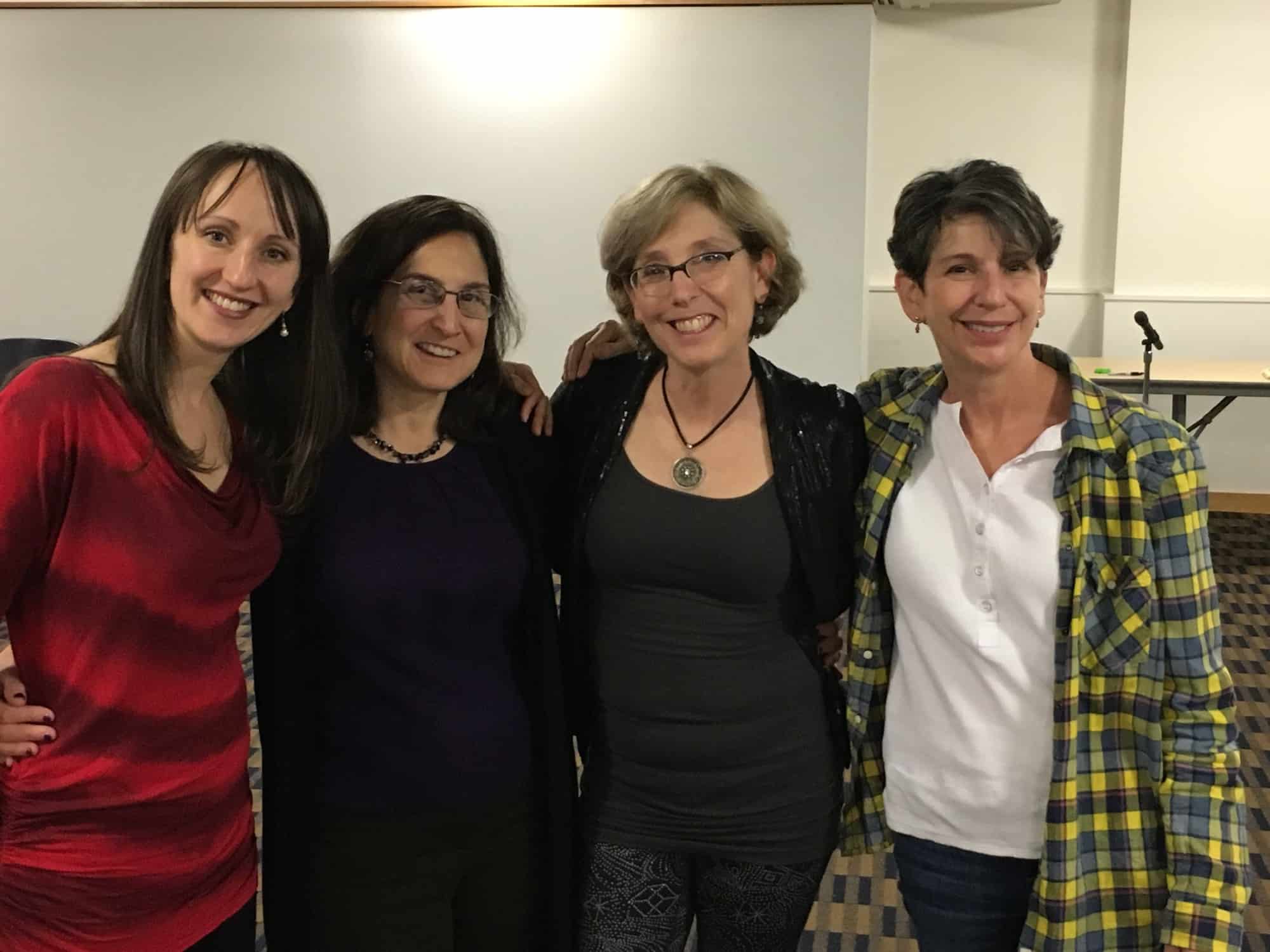 Rabbi Esther Adler and Larry Solomon (Executive Director), though not pictured, made me feel like I was home. From playing the flute during the Friday night Wow Worship Service to joining me to co-lead the Havdalah blessings before my Saturday night concert (Rabbi Adler), and Larry making sure all of my needs were met, they made me feel like a rock star!
I received a most beautiful email from Reine Shiffman (she picked me up at the airport, drove me to and from the hotel to the synagogue numerous times, did a mad run for Starbucks, helped me schlep my heavy suitcases and so much more). Reine wrote this email to Cantor Jen and then cc'd myself and the other professional staff. Here is the text of her email. I am so honored, truly.
Dear Jen,
I hope that by now you've caught your breath (to some degree at least) and have reintroduced yourself to your family.
What a weekend! Could you imagine beforehand that Ellen would be able to get every member attending Friday's service to waltz in the aisles to L'cha Dodi? From my back row seat, I could see couples delighting in the closeness, friends enjoying the company of each other, and even others, more bashful (like me), swaying against the wall. In fact, all the music was both fun and meaningful; the combined choirs were magnificent and responded perfectly to what Ellen asked of them. And although the full house wasn't there just to see Ellen, I don't think anyone went away without being touched spiritually as a result of her presence.
While I know the attendees on Saturday night had a blast, for me, personally, it was a wonderful educational opportunity. Watching how Ellen was able to get a group of children under the age of five to respond with so much enthusiasm was like being in the mind of an artist painting a picture. I noted the various techniques that any song-leader should know. She created an appropriate song set but read the group and changed course as necessary, she reminded the parents that their children would model them if they participated, too. She could wind them up and and just as easily calm them down. (I loved that she ended by teaching the parents a nighttime Sh'ma.)
Although I didn't spend much time with you on Sunday, I was fortunate to watch the choir rehearsals. When one of the teens said, "Can we keep you?", I knew she had connected. By the way, she mentioned privately to me on several occasions that our teen choir was perhaps the best she has heard. Listening to them sing Ellen's liturgical songs was one of the most moving experiences I have had in the sanctuary.
And her management of the younger choir on Sunday was equally as remarkable. The way in which she was able to get the student literally bouncing of the stairs to a state of calm was remarkable. It would never had occurred to me that one way to quickly reduce uncontrollable energy amongst many young children would be to play yoga music.
Finally, although understandable I'm sorry you weren't able to join us on Saturday night for dinner. It was a great group that allowed for fun as well as meaningful discussion. During the course of the meal, Cantor Reuben and Ellen broke into Noah Aronson's "Let There Be Love." The next day I downloaded the sheet music and have been playing it since then.
I had such a good time with Ellen, and I hope she enjoyed her weekend here, too. Separately, I am providing you with a link to a drop box where you'll find all of my unedited pictures (although it looks like you have a great one). It's my hope that Sue and Jen R. were able to do better.
With grateful appreciation and love for all you do,
Reine
Thank you Mount Zion Temple. You have a new friend in me!
For a video of me teaching my song "Yodelay Do Potato" with the younger students in the Religious School at Mount Zion, click HERE.
For a video of me leading "L'cha Dodi Waltz" with the Shir Chants choir during the Friday night Wow Worship service, click HERE.
For a video of me teaching my song "Boker Tov, Boker Or" with the younger students in the Religious School at Mount Zion, click HERE.